Who Killed Miracle?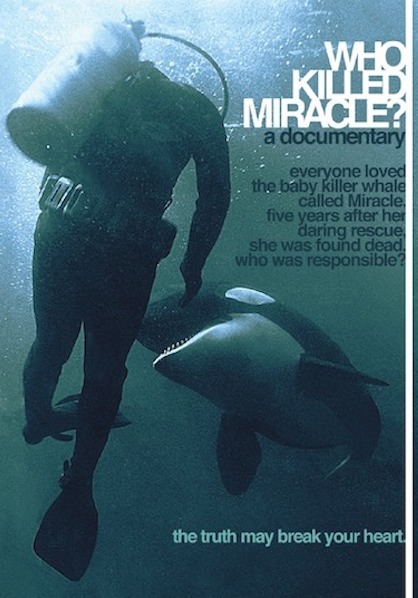 Synopsis
June 1977, a baby Orca was spotted swimming erratically near Naniamo, British Columbia. It was in distress, vocalizing and swimming erratically. Two weeks later, Bill Davis, a sport fisherman discovered the baby Orca in Menzies Bay near Campbell River. Davis befriended the little whale and began to feed her by hand in the wild. Bill's phone call to Murray Newman at the Vancouver Aquarium triggered a series of phone calls which ended at the office of "Sealand of the Pacific" and it's owner, Bob Wright.
Bob Wright thought the story of a fisherman feeding a killer whale by hand was crazy. It had never been done before. Once at Menzies Bay, Wright and his colleagues were stunned to learn that Bill was, in fact, feeding a killer whale by hand. They quickly realized the little whale was near death and needed emergency medical care. They decided to capture the baby Orca and take her back to Victoria on the back of a flatdeck truck. The little Orca would survive the 6 hour trek to Victoria, but when she was lowered into the pool she sank to the bottom. Her rescuers lifted her to the surface which began a six month ordeal of close calls and several miracles before the baby Orca would be declared healthy. Hence, she would become known as Miracle.
Miracle would later become the object of a political fight. Environmental activists called for Miracle's return to the wild. They testified in the court of public opinion that killer whales were dying prematurely in oceanariums around the world at alarming rates. But Sealand argued that Miracle would not be able to survive in the wild alone. She had become too accustomed to humans and it would not work.
Sealand then made plans to move Miracle to a new pool at Sealand. The question now facing Sealand was notabout whether to move her, but how. Everyone realized that Miracle's story had captured the attention of the entire country and that thousands of people would come out to watch the move. So, they decided to move her by helicopter. This was a feat that had never been tried before. On a day in February 1978, Miracle was moved to her new home through the air.
Miracle became a star performer at Sealand and people came in droves to see her. Miracle, however, would begin to exhibit strange behaviours. Was her traumatic early start in life now taking it's toll? Then, it January of 1982, Miracle suddenly died under a cloud of controversy. A mysterious caller claimed to have bungled a plot to free her. Was this a bungled plot by environmentalists to free the litte whale? Or was it a cover up? Director Scott Renyard will tell this story using never-before-seen archival footage of Miracle's historic rescue, scenes of her life in captivity, and interviews with the key players in her life to reveal the chain of events that led to her death.
Awards and Festivals






Trailer