Your signature can make all the difference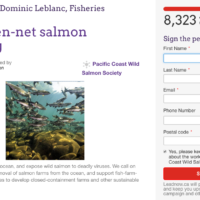 The removal of open net fish farms needs to happen, your signature will help YouLeadNow help  Minister Dominic Leblanc, end open-net salmon farming.  They are so close to their goal, adding your signature with help reach their 9,000 signatures.
Have you added your name to help defend our wild Salmon?
http://goo.gl/zhwrvG